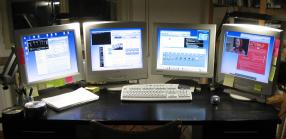 I used multi-monitor solution (see tech details on the righthand side), and I was searching the net for real large wallpapers, without any luck. So I decided to make a few very simple
PoVRay
-scenes to render at the size I need, and provide some other sizes to the public for free as well.
Right now each theme is rendered individually at 34 different image sizes to have best quality at each size. I also plan to render 2D scalabe wallpapers like PostScript or SVG files, let's see.
Contact
I developed this site within a couple of days, so it's a hobby site. If you like to get in touch with me, use the email-address below.

René K. Müller, November 2004
contact@domain_of_this_site (you know what I mean)